Project-Based Learning (PBL) has been at the core of the Hirao School of Management (commonly referred to as CUBE) curriculum since our doors opened in 2009. Learners at CUBE have been required to successfully pass five six-credit projects (four and a half hours each week for fifteen weeks) as well as an eight-credit graduation project during their four years in the program.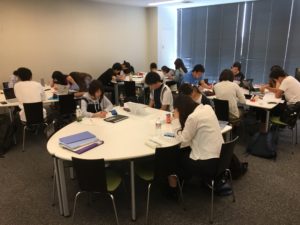 The regular projects are registered in one or more categories (business, public, global), and at least two projects are offered in English each semester. One of the English projects developed over the past ten years is the Beer Industry Project (BIP), which is registered as a business and global project.
Here are a few examples of projects taught by Brent A. Jones in recent years:
Beer Industry Project (Fall, 2023)
This project will be used to introduce both historical developments and current trends in local and global beer industries. Students will research how this industry developed historically as well as current management and economic considerations and the emergence of the craft beer (microbrewery) movement. The project website for 2021 can be found HERE.
Sustainable Development in the 21st Century (Spring, 2023)
The Sustainable Development in the 21st Century project prepares students for active participation in the Japan University English Model United Nations (JUEMUN) conference. In addition, the project allows students to develop presentation, discussion, and negotiation tactics in English while deepening their understanding of how Sustainable Development (SD) works in the world through institutions like the United Nations. The JUEMUN conference provides students with an opportunity to research, write about, and discuss global issues in depth, from the perspective of countries outside of Japan. JUEMUN 2023 will take place July 7th to 9th at Kobe City University of Foreign Studies and will focus on 'Realizing the Rights of all Children and Adolescents.' Please note that this project requires students to participate in the full JUEMUN conference, which may entail missing a day of regularly scheduled classes. JUEMUN participation is an important part of this project, and this is reflected in the evaluation. Furthermore, costs related to JUEMUN will be the responsibility of participants. Participants can be expected to pay for their hotel, transportation, food, and JUEMUN fees on their own. Information about JUEMUN 2023 can be found HERE.
Oral Histories (Fall, 2022)
This project will introduce students to the topic of oral histories (OH) and involve them in designing and conducting their own oral history projects. The course will start with an exploration of what oral histories are and move on to looking at various examples. Eventually, students will identify a theme they would like to focus on, and then design their project. They will collect oral histories on digital recorders and transcribe major portions of their interviews. Finally, they will write up and present a report of their findings via a multimedia presentation. A few examples of past efforts by students can be found this Vimeo page. This project is also linked to the Word Hunters podcast and blog.
Event Planning Project – PechaKucha Night (Spring, 2022)
This project involves students in all aspects of planning and hosting PechaKucha Night (PKN) events, e.g., recruiting speakers, preparing promotional materials, attracting audience members, managing social media platforms, event day logistics and event follow-up. This project should be of interest to students interested in event planning, multimedia presentations and networking. Students will also prepare and record their own PKN presentations and will learn specific content knowledge related to their area of interest while polishing their spoken English skills. Design theory will also be explored as related to promotional flyers/posters and slideshows. The PKN Nishinomiya page includes videos of some our past presenters.